By Sean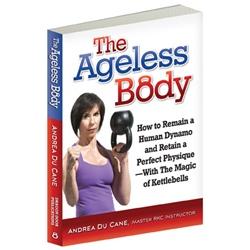 If you you want explanations and big pictures of Andrea guiding you through key joint mobility, muscle flexibity and bodyweight and kettlebell strength and conditioning moves and a full 6 week "ramp up" and full strength and conditioning program right now, then you will find this information helpful.
Andrea has been a Senior/Master level instructor in the RKC for almost 10 years.  She's CK-FMS, Z-Health and Pilates certified. Few trainers posses such a vast "tool box" of exercises and practical teaching ability and range that Andrea has.
The Ageless Body is a set of how to material, equipped with giant pictures, on joint mobility, flexibility and strength and conditioning movements plus a charted section on programming that shows you how to plug them in to your day to day existence.
One of the little perks of producing the Ageless Body Workshop with Andrea was that I got a sneak peak of this book early this summer and have been using it frequently as a resource for this project and my own practice.
Two Parts to this Review
For this review, I want to share the chapter breakdown with some brief commentary to give you an overview of the contents, plus fill it in with a few stories from the Ageless Body Workshop.
Lastly I'll mention who I think it is for and who it isn't for.
Chapter Breakdown of the Book
Chapter 1: Intro/How to Use the Book
Chapter 2: Medical Disclaimer
Chapter 3: Kettlebell Safety
Chapter 4: Prep Drills
- How to get a nuetral pelvis and spine
- Proper hip hinge
- Hip hinge strategies for different levels
- Hip flexor stretch for different levels
- T-spine rotation for different levels.
Chapter 5: Warm Up (Complete Joint Mobility Program that mobilizes the major and minor joints of the body in one to several different ways, depending on the joint).
Chapter 6: Main Kettlebell Exercises
- Deadlift for different levels and varieties, single and two legged, with trouble shooting,
- Varieties of kettlebell carries
- Varying degrees of the plank
- Kettlebell Swing,
- 4 Variations on the Kettlebell press,
- Progressions for goblet squat
- Different level variations for the Russian twist for spinal rotation and abdominal strength.
Chapter 7: The Get Up – Pictures and descriptions and break down for each part of the movement.
Chapter 8: Balance Drills – We don't want any falls.  These are the drills Andrea teaches to keep your sense of balance.
Chapter 9: Cool Down Stretches (Andrea is a flexibility expert.  These are her 7 fundamental "go to" stretches)
-Hip Flexor Stretch
-Half Pigeon (Figure 4), Variations
-Quad Stretches, Variations
-Hamstring Stretch, Variations
-Runner's Stretch
-More T-Spine Rotation
-Down Dog
Chapter 10: Advanced Kettlebell Exercises
-Clean
-Double Swing
-Double Clean
-Double Press
-Front Squat
-Goblet Squat with Curl
-Goblet Squat with front raise
-Snatch
Chapter 11: Planning Your Workouts
Chapter 12: Six Week Ramp Up & Six Week Program
Chapter 13: Strength Workout (6 Rounds)
Chapter 14: Cardio Workout (6 Rounds)
You can see that this is a comprehensive product.
Overview
The first 10 chapters show you how to do the moves (light descriptions + pictures), and chapters 11-14 show you how to plug them into to a weekly routine.
Andrea teaches to do prep drills and joint mobility before even touching a kettlebell.  Pavel teaches the same in Enter the Kettlebell!  Nothing new, it is a more effective way of getting the most of out of your kettlebell practice. Ageless Body gives you a full joint mobility program with movements from Pavel's Super Joints, CK-FMS and Z-Health and and tips for neutralizing pelvis and spine to give a foundation for safe lifting.
The breakdown of main kettlebell exercises vs. advanced is very important for learning kettlebells the right way.
If you own the main exercises, the more advanced ones will be a lot easier.  Respect the order and perfect the beginner moves.
Andrea discusses this in this podcast.
Andrea breaks down all the exercises, like she does in the Kettlebell Boomer DVD to fit the level of the raw beginner/de-conditioned (unloaded hip hinge – no kettlebell) to more advanced (double kettlebell deadlift) to use an example for Andrea's deadlift progression.  So you are sure to find the appropriate level for your practice.
Who Is This For?
The Ageless Body is ideal for beginners. Dan John, Masters Weightlifting Champ, author of Easy Strength, and Senior RKC says that he uses this program, which throws a slight wrench to the theory that this is only for beginners.  Coach says "this program makes me do what I know I need." That should give any seasoned kettlebell practitioner serious pause.
If you've been doing kettlebells (or any strength program) for a long time and don't do much flexibility or mobility training and you are getting stiff and achy, this will help you.  If you are into sports and are developing dysfunctional joints, this information will help.
At the Ageless Body workshop, we had two martial artists who were interested in kettlebells, but had hip and shoulder dysfunctions, respectively, that prohibited them from taking their KB practice where they wanted. Using many of the tools featured in this book, Andrea helped these gentlemen regain function in their hips and shoulders which cleared the way for a more productive kettlebell practice.
At the same time, I saw Andrea use these tools to teach kettlebells effectively to older trainees.
How does the same material help both tough as nails martial artists and your grandmother?  Because it starts at the beginning and doesn't leave anything out.
I think RKCs and HKCs will benefit from this book because it gives a template for bringing de-conditioned clients back to strength and conditioning while (likely) teaching some new or perhaps neglected tools along the way.  It never hurts to hear a reminder on what works.  There were two attendees at the workshop who signed up because they thought this information would help them intelligently train for taking the RKC.  RKCs showed up to learn the tools to bring kettlebells to Boomer aged clients.
Who is this book NOT for?  
More advanced athletes who have a handle on their aches and pains and people looking for a lot of analysis in the subjects covered.  This it not a theoretical book, at all.  It is a "do this" book. People who already know how to program kettlebell workouts, flexibility and joint mobility and have a sizable tool box of Andrea's "Three Pillars" of Strength, Flexibility and Mobility won't need it.
Get Your Ageless Body Hardcover Book HERE